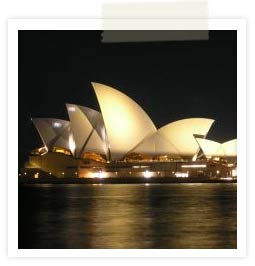 About Sydney
Welcome to About Sydney on Brisbane to Sydney! Our site allows you to find out more about Sydney. We also help you to compare airlines and book cheap flights Brisbane to Sydney and other Australian cities. We have included a wide range of travel information to help you prepare for your flight from Brisbane to Sydney.
Here at Brisbane to Sydney we provide you information about Sydney. Informaton about Sydney Airport as well as travel information and things to do in Sydney. In addition to flights to Sydney we also offer Car Hire from Sydney Airport, Sydney Hotels and Accommodation and Travel Insurance when you fly to Sydney.
About Sydney - Information
Sydney is where Disney Pixar chose to find Nemo. A strange-looking "house"; is the pride of the city. It is a city you must see and come to know and learn about Sydney for as long as you can spare, and you will see what it is about Sydney that keeps people coming back.
More about Sydney. Sydney is the colonial birthplace of Australia, and is now its largest financial centre. As many global brands choose Sydney as their headquarters, enjoying the temperate climate and thriving local economy.

About Sydney culture: Sydney is one of the world's most multicultural cities. Chinatown is a vibrant concentration of culture and cuisine, with fare from around the world located everywhere from the CBD to Sydney's outskirts. Sydney can cater to the world in style, fly to Sydney!

Whether for a day in the waves, or a long stroll, Sydney's beaches are reason enough to make Sydney your home. Even if it's for a night or two, or as a home-base from which to explore this historic corner of Australia. Fly to Sydney to discover the great beaches.
About Sydney History
Sydney was named in 1788, after the British Home Secretary, The First Viscount Sydney. Home to Indigenous Australians for at least 40,000 years previously, many battles were fought before settlers could 'settle'. Tens of thousands were killed, each a custodian of the oldest culture in the world.
The 1820's saw the beginnings of a modern city develop. The 'Harbour City' became home to immigrants in the 1830s-40s. This allowed Sydney to grow quickly into a trading and expeditions base for Australia.

As Australia then developed into a region of states and their cities, Canberra became the Capital. Sydney, however, remains the premier destination for travelers to Australia, and its world-class hotels, shopping, arts and tours available make it a must-see city.

About Sydney:
Geographic location:
South-west corner of Australia's East coast (33° 52' S, 151° 13' E)
Population:
4.1 million in the metro area. Another 200,000 Sydneysiders reside in the outer suburbs.
City size:
At 1580 square kilometres (982 square miles) and twice the size of New York City, Sydney is one of the largest cities in the world by land size.
Weather:
Sydney has fine weather, with more showers in colder months. A fresh breeze in the Harbour City keeps humidity levels low, and the hottest of days comfortable.
Seasons:
Spring: September, October, November
Summer: December, January, February
Autumn: March, April, May
Winter: June, July, August

Best time to fly to Sydney:
November through to March, when the temperature is warm and the precipitation is low.
Come and see what it is about Sydney that everyone loves! This is a great town with so much to do and see, fly to Sydney! Book your flights Brisbane to Sydney!